Meet the Barajas-Lopez Family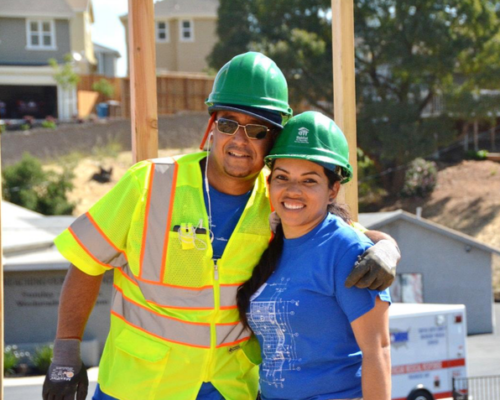 Luis Alberto Mendoza Barajas & Marisela Lopez Rios have long dreamed of giving their two daughters a safe, decent home and are working hard to make that dream a reality. Today they live in an apartment with mold, electrical issues, pests, and other safety concerns. Until they found Habitat for Humanity, they were unable to find an affordable alternative for their family. Because of their limited savings, no realtor would work with them to find a home on the open market, and rental housing in Contra Costa County has become less and less affordable.
The day they learned about Habitat for Humanity's homeownership program, Marisela called Habitat nearly 20 times, in her excitement and confidence that this was the way to make their dreams a reality. Throughout the complex and sometimes challenging application process, Marisela's faith in their success never wavered. When the good news came that they had been selected, the family was overjoyed.
Now they had new challenges: they were concerned about affording closing costs and ongoing home expenses, so they immediately began financial education and budget planning with Habitat staff to prepare for ownership. The family also began sweat equity at the construction site, which they have loved. Marisela shares, "I am so glad to have the chance to learn about building and I want to learn everything as we build our house. I'm not going to have a building manager to call anymore when things break, and I want to learn all I can to be able to maintain my home myself. I also love the chance to connect with the other families who will be our neighbors as we build together. We share similar dreams: an affordable house where we can keep our families safe. As we build our homes, we are getting to know each other and build our community together.
Marisela and Luis see their Habitat home as their chance to give a better life to their children. Their two daughters are so excited to move to their new community and to have their own rooms. Jennifer, who will start middle school in the fall, finds it hard to do homework while her little sister Jasmine plays in the room they share and she can't wait to have space to focus on her studies. Jennifer is an avid reader, and this home will give her space to do what she loves and room for Jasmine to play and grow.
Jennifer has complained only because she is too young to build. Her parents told her that in a few years, when she is sixteen, she can build to help other families with their homes. She now regularly complains, "I want to be sixteen now!" She can't wait to be able to help other families to have a home like hers.
Marisela and Luis's joy over the opportunity to partner with Habitat with Humanity is evident in their efforts to prepare for ownership and in Marisela's reflection on how this will change their family's life: "This home will give our children stability and safety, and my husband and I will rest easier knowing they have a place to be, no matter what. They have a future. We are working hard to give them that gift."
On Sweat Equity: Marisela says, "The first day wasn't so bad, just one hard day. But my first week going three days in a row was right after the rain, so we were digging mud out of trenches that collapsed in the storm, tying rebar (which I can now teach other people), and preparing foundations. It was a lot of work with my arms, I built my first foundation forms, and learned to use saws I'd never used before." By the end of the third day, Marisela was so tired. She arrived home on Valentines Day and her husband asked, "Do you want to go dancing?" Marisela said, "No, no!" He asked, "Do you want to go to dinner?" and she said, "No all I want to do is take a shower and go to sleep!"