Assemblymember Kiley and Senator Gaines Make an Impact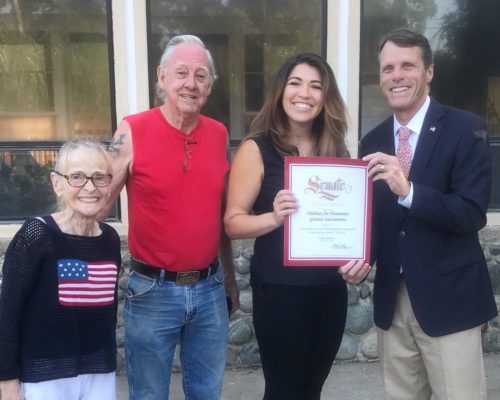 Glenn Claghorn is a Vietnam Navy Veteran.  He and his wife JoAnne have lived in their Fair Oaks home for nearly 40 years.  JoAnne has Crohn's disease and has had 23 surgeries.  Glenn has had his share of health problems as well.  Their home has been in JoAnne's family for 5 generations, however due to their health issues and income they were concerned about possibly being displaced due to the dire repairs needed on their home.  Through the support of Habitat for Humanity of Greater Sacramento and the local community, they now have a repaired safe, water-tight roof over their home where they will be able to stay and age in place.  Over 100 volunteers helped make the needed repairs on the Claghorn's roof to help them stay in their home.  Over the course of construction, both Assemblymember Kiley and Senator Gaines stopped by to showcase their support for the project and Habitat for Humanity.  Senator Gaines also presented Habitat with a certificate for our dedication and commitment to serving the community.
This was Assemblymember Kiley's first visit to a Habitat jobsite.  Senator Gaines had helped previously on a new home build in South Sacramento several years ago, but was unaware of the work we were doing for Veterans and our growing repairs program.
Many thanks to @TedGaines, @sachabitat, @givebackhomes & @ReferralExch for all their wonderful work helping us with our home in Fair Oaks! The Claghorn's pic.twitter.com/QM7c9Gc1Lb

— JoAnne (@gandj2525) June 28, 2018
Both Assemblymember Kiley and Senator Gaines were very impressed with the volunteer and community support which helped make this project possible and showcased their appreciation for what we do as an organization.  We hope to be able to partner with them in the future to help build even greater impact for local families, seniors, and veterans in need!
Today we got a very special visit on the job site from Assemblymember @KevinKileyCA who stopped by to say hello and see our newest Veteran critical repairs project in progress! Thank you Assemblymember Kiley for your support! #fairoaks #servingthosewhoserved #sachabitat pic.twitter.com/rIOsGfsBJf

— Habitat Greater Sac (@sachabitat) June 22, 2018
More Photos on Facebook
News Coverage