Campuzano Family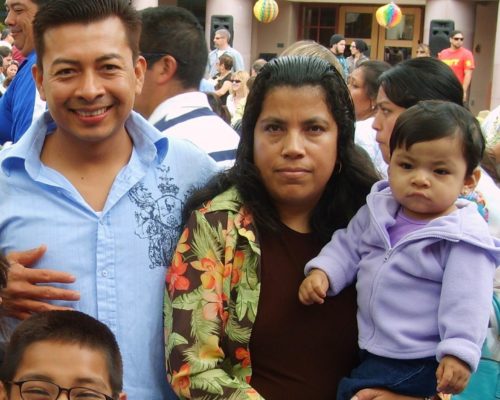 In December of 2014, Albertano Campuzano and his family were one of twelve families to move into an affordable Habitat home on Canon Perdido Street in Santa Barbara. Now, two and a half years later, the Campuzanos are reaping the benefits of having a safe and affordable place to live, leading a life that seemed impossible before they partnered with Habitat.
Before being accepted as Habitat homeowners, the Campuzanos (Albertano, his wife Maria, and their children Andrew and Michelle) lived in a small, two room apartment in Goleta. While they loved Santa Barbara and considered it their home, the cramped sleeping situation and inability to find other housing had Albertano and Maria considering moving the family to live with Maria's family in Kansas. They ended up deciding that they loved Santa Barbara too much to leave, and that even if things were difficult, they were still luckier than so many others to live in a "paradise." It was not long after that that they applied and were accepted as future Habitat homeowners.
Now, living in their three-bedroom unit on Canon Perdido, the Campuzanos' lives have improved tremendously. The increase in space has not only allowed the family more personal freedom, but has made it easier to have guests over and for family to visit. Now that they have more space, family members can stay more comfortably and over extended periods of time, which he says that both his family from Mexico and Maria's from Kansas both do several times a year.
The increase in personal space has been especially beneficial for Albertano and Maria's son Andrew, who is autistic. Andrew prefers to be alone a lot of the time, which obviously was very difficult in their prior living arrangement. Now, with a room to himself, Albertano says that his son seems happier and more relaxed. The youngest Campuzano, Michelle, is also benefitting greatly from the move, a fact that Albertano says she will not fully appreciate for a long time. He is happy that she can lead the life of a normal, happy eight-year-old girl. The family was able to get an upgrade of a pet too, switching from a goldfish in the old apartment, to a big fluffy bunny in their new home, which is a delight to animal lover Michelle. She will be able to walk across the street to go to high school, and Albertano says that the family's increased financial stability has allowed him to start putting away some money for a college fund for Michelle. "I get to worry about her future, and she can just have fun like any little girl deserves" Albertano says.
Albertano is immensely grateful for the role that Habitat played in allowing him and his family to enjoy more financial stability. He notes how helpful the homeownership readiness classes were for him and Maria in preparing them to be successful homeowners. He also raves about the construction of the houses themselves, remarking how much energy and money they save as a result of the rigorous Passive House green energy standards the project adhered to. He marvels at how good his home is at keeping heat in or out, and recalls fondly how he contributed to the construction through sweat equity. The Campuzano family's favorite part about their Habitat home is the close community of friends that they have gained as a result. These friendships formed throughout the construction process, and now after over two years of living alongside one another, Albertano says that he thinks of many of his neighbors as family. Occasions such as birthdays or holidays will often be celebrated communally in the driveway that the units all share. Albertano says that he and his family "are very blessed to have so many good friends as neighbors."
The move to Canon Perdido Street was especially serendipitous for Albertano himself. For almost two decades, he has worked making McConnell's ice cream just a block away from where he now lives. He never imagined that a rundown lot that he passed every day on the way to work would one day be the sight of his family's home, but now he thinks every day how lucky he is to live where he can walk to work in a matter of minutes, or to the Santa Barbara Bowl for a concert, and where his daughter will soon be able to walk across the street to high school. Albertano tears up as he says that the life he is living now is "a dream come true."